FRED'S ENERGY – THE NORTHEAST KINGDOM'S PREMIER ENERGY COMPANY SPECIALIZING IN SALES, INSTALLATION AND SERVICE
Fred's Energy is a locally owned and operated heating and plumbing specialist and retailer. For over 45 years, we have been helping the residents and businesses of Lamoille County and the entire Northeast Kingdom with their plumbing and heating needs. We have earned the respect and trust of our customers by being a friendly, reliable, and fair business delivering the best heating and plumbing services available.
Whether you're preparing for cold winter months or hot summer days, our dedicated and knowledgeable staff are eager to help you get your home in tip-top shape. Our plumbing and heating emergency services are available seven days a week, 24 hours a day. We offer competitive prices and strive to ensure our customers' satisfaction. We service the products we sell, as well as most other makes of furnaces, heating and air conditioning systems, and appliances.
Throughout the years, Fred's Energy has made countless friends and we have built strong relationships with our community and customers. Our greatest achievement is delivering superior customer service that meets your needs and exceeds your expectations.
SERVING YOU IS A PRIVILEGE WE TAKE VERY SERIOUSLY
We see all customer requests as chance to share our expertise in a constructive and positive way. Accordingly, our skilled technicians use their insight and experience to do the job correctly the first time. When you need us, it is our goal to meet and exceed your expectations every time. Whether your heating system quits in the middle of the night or you just need your oil tank refilled, call Fred's Energy. Our dedicated staff serves our customers 24 hours a day, seven days a week. With the Fred's Energy team behind you, you'll never be left out in the cold.
The Man Behind the 
Fred's Energy Name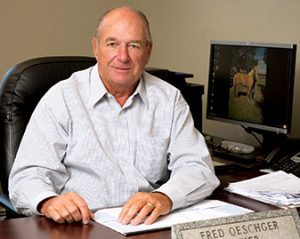 Yes, there is a Fred! Fred Oeschger has been serving the heating, cooling, and plumbing needs of local communities since 1973. He started it all with two trucks under the name of Fred's Plumbing and Heating, which today has grown to three office locations with a fleet of vehicles and over 80 experienced professionals on his team. Integrity, perseverance, and consistently putting customers first has established Fred's Energy as Northern Vermont's premier energy company.
Fred's Energy – we're committed to delivering caring, professional and efficient, top-notch service. We value and respect our customers and are constantly evolving and investing in our employees, as well as in our equipment, to offer an even greater range of services. Our product line continually increases, as well, offering innovative products to make your life easier for total, year-round comfort.
We're Connected to the Community
Fred's Energy is passionate about doing 
what is right for the community. We continue to give back, actively supporting local community organizations and events that have the most positive and lasting impact on our communities. Donation requests are reviewed by our Donation Selection Committee and as budget allows, are given only to those non-profit causes or events that benefit the community as a whole. For more information or to initiate a donation request, please use this form. Due to the amount of requests we receive each and every week, please no phone calls – we will contact you if your request has been approved.


 Donation Request

Careers
We're always looking for talented people who are eager to provide exceptional service to our wonderful customers!
We currently do not have any open positions, but if you have a great work ethic and want to work with a 5-star team, we want to hear from you! Please email your resume and references to [email protected] or download an employment application below and we will keep it on file. Applicants being considered will be notified. EOE
Download our employment applications below. Download and save to your computer or device before filling out. Please also note that there are two parts to the employment application for "drivers" (both parts must be filled out).