FRED'S ENERGY – THE NORTHEAST KINGDOM'S PREMIER ENERGY COMPANY SPECIALIZING IN SALES, INSTALLATION AND SERVICE
Fred's Energy is a locally owned and operated heating and plumbing specialist and retailer. For 45 years, we have been helping the residents and businesses of Lamoille County and the entire Northeast Kingdom with their plumbing and heating needs. We have earned the respect and trust of our clients as a friendly, reliable, and fair business delivering the best heating and plumbing services available.
Whether you're preparing for cold winter months or hot summer days, our dedicated staff of more than 80 employees are eager to help you get your home in tip-top shape. Our plumbing and heating emergency services are available seven days a week, 24 hours a day. We offer competitive prices and strive to ensure our customers' satisfaction. We service the products we sell, as well as most other makes of furnaces, HVAC systems and appliances.
Throughout the years, Fred's Energy has made countless friends and we have built strong relationships with our community and customers. As a result of these relationships, we have grown. We've expanded our service to all corners of the Lamoille County and the entire Northeast Kingdom of Vermont.
SERVING YOU IS A PRIVILEGE WE TAKE VERY SERIOUSLY
We see all customer requests as chance to share our expertise in a constructive and positive way. Accordingly, our skilled technicians use their insight and experience to do the job correctly the first time. When you need us, it is our goal to meet and exceed your expectations every time. Whether your heating system quits in the middle of the night or you just need your oil tank refilled, call Fred's Energy. Our dedicated staff serves our customers 24 hours a day, seven days a week. With the Fred's Energy team behind you, you'll never be left in the cold.
We're Connected to the Community
Fred's Energy continues to give back, actively supporting local community organizations and events that have a positive and lasting impact on our communities. Donation requests are reviewed by our Donation Selection Committee and as budget allows, are given only to those non-profit causes or events that benefit the community as a whole. For more information or to initiate a donation request, please use this form.


 Donation Request
Thank you to everyone who donated toys!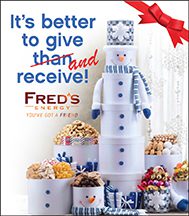 This past holiday season, we helped collect for annual toy drives in each of our three office areas and for every toy donated, donors were eligible to enter for a chance to WIN 100 gallons of propane or oil and a 3 ft. tall snowman gift tower filled with holiday treats! 
In December 2018, one winner was selected at each of our three Fred's Energy office locations. Congratulations to Becky Gonyea of Morrisville, Cindy Royer of Barton, and incredibly heartwarming, the winner from our Lyndonville office made an anonymous donation of the fuel to be split between two households in need. Thank you all for your donations, making a huge difference in the lives of so many local families – and for sharing the true meaning of Christmas!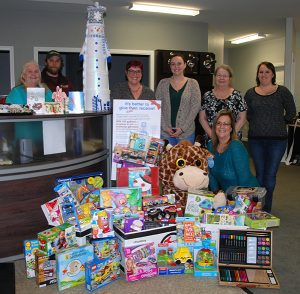 The Holiday Project
The Fred's Energy Morrisville staff had a lot of fun helping collect toys for the Lamoille Family Center's "Holiday Project." The "Holiday Project" helped 323 children with the toy drive. Shown left to right is Cheryll, Mike, Wendy Chauvin of the Lamoille Family Center, Morgan, Martha, Sarah, and kneeling is Jaye. The girls in the Fred's Energy office chipped in together to purchase and donate the large giraffe.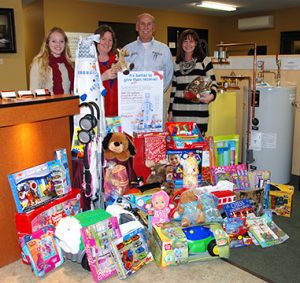 Toys for Kids
The Fred's Energy Derby office helped collect toys for the NEKCA and Northpoint "Toys for Kids" toy drive. "Toys for Kids" helped approximately 191 families. Shown left to right is Fred's Energy Derby office receptionist Desiree, NEKCA's Merry Hamel, Fred's Energy General Manager Dennis Percy, and Rachel Twofoot from Northpoint.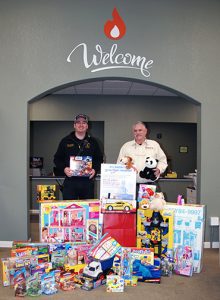 The Kingdom Santa Fund
The Fred's Energy Lyndonville office helped collect toys for the St. Johnsbury Fire Department's "Kingdom Santa Fund." The "Kingdom Santa Fund" helped approximately 500 families. Phil Hawthorne of the St. Johnsbury Fire Department (left) is shown with Fred's Energy Branch Manager Greg Hopkins. There were lots of smiles this past holiday season!
All donated toys were distributed locally.

Careers
For over 45 years, Fred's Energy has set the standard in top-quality plumbing and heating services – and we're still growing! Would you like to join our all-star team? We're always looking for talented people who are eager to provide exceptional service to our wonderful customers.
We currently have the following positions open:
Morrisville, VT Office Location
Our Morrisville, VT office is expanding and we're looking for
– an oil service tech
– a propane service tech
– HVAC installer, and
– licensed plumbers.
If you're qualified and interested in working with a 5-star team, we want to hear from you!
These are full-time positions with a full benefits package and pay according to experience. Must have a strong work ethic, valid driver's license with a clean driving record, and pass a background check. Additional experience with AC systems is a plus. Please submit employment application (download below) via email to [email protected] or stop by our 288 Bridge Street, Morrisville, VT office to fill out an application in person. Phone: 802-888-3827. EOE
Download our employment applications below. Download and save to your computer or device before filling out. Please also note that there are two parts to the employment application for "drivers" (both parts must be filled out).