You've Got a
Fr

i

e

n

d

!

Whether you're looking for heating oil or propane, a new heating or cooling system, a plumber, a repair job, a bathroom remodel – or that all-important 24-hour emergency service – you've come to the right place because at Fred's Energy, you've got a friend! Your satisfaction is our number one priority and it's a privilege to serve you. As a result, we take your needs very seriously. Our friendly, dedicated and experienced team is eager to help you get your project done efficiently and at a competitive price!

We've been proudly serving the heating, cooling, and plumbing needs of local communities since 1973. Our friendly, dependable and personalized service has helped us grow from a small shop with just two trucks, to four office locations with a staff of over 80 talented professionals and a fleet of utility vehicles. We value and respect our customers and are constantly evolving and investing in our employees, as well as in our equipment, to offer you an even greater range of services. Our product line continually increases, too, to offer innovative and convenient products to make your life easier for total, year-round comfort. We're celebrating our 50th anniversary with events and specials all year long to thank you, our customers, for your continued business!
CUSTOMER APPRECIATION OPEN HOUSES
Join us at one of our Customer Appreciation Open Houses for lunch, fun and games, giveaways, and a drawing.
•  Saturday, June 17th at our Morrisville office located at 288 Bridge Street, from 11:00 a.m to 2:00 p.m.
•  Saturday, July 29th at our Derby office located at 328 Main Street, from 11:00 a.m to 2:00 p.m.
•  Saturday, August 26th at our Richford office located at 103 Troy Street, from 11:00 a.m to 2:00 p.m.
•  Saturday, September 16th at our Lyndonville office located at 4920 Memorial Drive, from 11:00 a.m to 2:00 p.m.

Customer Special:
$20 OFF* HEATING SYSTEM SPRING CLEANING

Ahhh, spring is finally here! Time for some spring cleaning, yet don't forget your heating system! It's crucial to have your heating system cleaned and serviced annually by a professional to prevent nasty buildup which would then be circulated throughout your home the next time you turn on the heat, and to also check for wear.
Detect issues early on:
•  Soot buildup in the heat exchanger reduces efficiency
•  Cracks in the heat exchangers or flue pipes can lead to carbon monoxide leaks
•  Igniters wear off and get dirty, causing delayed or no ignition
•  Air filters could clog up, reducing air flow throughout the house, lowering efficiency, using extra fuel and costing you more
•  Not maintaining your system can void a manufacturer's warranty.
Keep your system working safely and efficiently – schedule your cleaning today!
*Must be scheduled by 6/1/23. If you have a maintenance contract, this cleaning is already included in your service.

Let us know what you think and enter for a chance to WIN!
We have built our business on customer satisfaction and are always looking for ways to improve upon our service to you. We are now in our 50th year and once again are looking for input from our customers to help us provide the highest quality service possible. Please take a few minutes to fill out this survey and as a thank you for your time, your name will be entered into a monthly drawing, all year long, for a chance to win a Fred's Energy $50 gift certificate.*
FredsEnergy_50thOnlineCustomerSurvey – Click or tap this link and save the survey pdf to your device. Once completed:
•  Email to [email protected], or
•  Print and mail (or drop off) to Fred's Energy, 328 Main Street, Derby, VT 05829
•  As another option, you could fax to 802-766-4901.
Please note: your name and contact information is only required if you would like to be entered into the drawing. Drawing to take place the last day of each month until the end of the year and winners will be notified. *Gift certificate is good for products or services from Fred's Energy – not redeemable for cash. Thank you for your participation!
Still reeling from high heating bills?
Consider replacing your old heating system with a more efficient and reliable heating unit that will pay for itself in fuel cost savings. Now through July 1, 2023, GET $200 OFF a new heating system installation from Fred's Energy. Call to learn more and start enjoying a whole new level of comfort!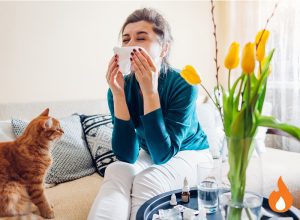 Trio Plus Air Purifier – f

or a healthier home!
Springtime is wonderful, but it can also be challenging if you have allergies or asthma. Breathe easy, breathe deep, and breathe healthy with a Trio Plus air purifier and filtration system from Fred's Energy! This remarkable, state-of-the-art portable system removes indoor air pollutants such as smoke, dust, pollen, pet dander, and even toxic gases from household products and cleaners.

With true HEPA and carbon filtration, Pro Cell VOC reduction technology, and powerful UVC lamps, this exceptional air purifier also reduces mold, odors, and viruses with a 99.99% effective rate against coronavirus!
Call your local Fred's Energy office today to learn more.