You've Got a
Fr

i

e

n

d

!

Whether you're looking for heating oil or propane, a new heating or cooling system, a plumber, a repair job, a bathroom remodel – or that all-important 24-hour emergency service – you've come to the right place because at Fred's Energy, you've got a friend! Your satisfaction is our number one priority and it's a privilege to serve you. As a result, we take your needs very seriously. Our friendly, dedicated and experienced team is eager to help you get your project done efficiently and at a competitive price!

We've been proudly serving the heating, cooling, and plumbing needs of local communities since 1973. Our friendly, dependable and personalized service has helped us grow from a small shop with just two trucks, to four office locations with a staff of over 100 talented professionals and a fleet of utility vehicles. We value and respect our customers and are constantly evolving and investing in our employees, as well as in our equipment, to offer you an even greater range of services. Our product line continually increases, too, to offer innovative and convenient products to make your life easier for total, year-round comfort.
CELEBRATING 50 YEARS IN BUSINESS!
We've been celebrating our 50th anniversary all year long with events and specials, to thank our customers – and to meet new ones, too!
We want to thank everyone who stopped by our Lyndonville office to visit and have lunch at our 50th Anniversary Customer Appreciation Day and Open House event September 16th. It's always great to get together and have fun! We have the best customers and community members and really enjoyed chatting with everyone. Our employees are passionate about helping customers so if you ever have a question or need a quote, just give us a call!
Congratulations to all the winners in our Lyndonville office drawing: $100 Fred's Energy gift certificate to Diane Ball, $50 gift certificate to Robert Stowell Sr., $25 gift certificate to Margaret Allard, a pair of stainless steel travel mugs to Meghan Theberge, and an insulated grocery tote bag each to Ronald McKinney, Alice Metras, Donna Dubray, Terri Persons, Steve and Robin Young, Barbara Ritson, Louise Allen, Lucille Winsor, Bonnie Locke and Alexandra Michael.
As the end of the year draws near, we're winding down our 50th anniversary events, yet there are still chances to win items from Fred's Energy with our monthly customer survey drawings, a sponsorship of the American Red Cross blood drive October 18th at the Lyndon Municipal Building Gym in Lyndonville, and at one of our upcoming holiday toy drives. Thank you again for joining in our 50th anniversary celebration open house events!
Donate blood and enter for a chance to win!

Help save lives! We're sponsoring another American Red Cross blood drive on Wednesday, October 18th at the Lyndon Municipal Building Gym located at 119 Park Avenue in Lyndonville, VT (diagonally across from bandstand Park). Donate blood, have lunch on us, and all donors are eligible, too, to enter for a chance to win items from Fred's Energy:
•  $100 gift certificate good for products or services from Fred's Energy
•  a pair of ceramic coffee mugs
•  and 5 winners will each receive an insulated grocery tote bag.
Call 1-800-RED CROSS or visit RedCrossBlood.org to schedule an appointment. Hope to see you there!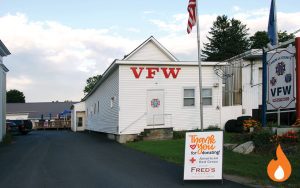 Thank you again to the Morrisville community for donating blood at the Morrisville VFW blood drive on Friday, September 1st, sponsored by Fred's Energy. Your thoughtful and generous donations will help to save many lives!
Congratulations to the winners in our drawing: Rich Beutel won the $100 gift certificate good for products or services; Joanie Newton won the pair of ceramic coffee mugs; and an insulated grocery tote bag went to each of the following: Sofie Kizer, Victoria Hudson, Denis Nepveu, Linda Audibert and Jessica Flores.

Let us know what you think and enter for a chance to WIN!
We have built our business on customer satisfaction and are always looking for ways to improve upon our service to you. We are now in our 50th year and once again are looking for input from our customers to help us provide the highest quality service possible. Please take a few minutes to fill out this survey and as a thank you for your time, your name will be entered into a monthly drawing, all year long, for a chance to win a Fred's Energy $50 gift certificate.*
FredsEnergy_50thOnlineCustomerSurvey – Click or tap this link and save the survey pdf to your device. Once completed:
•  Email to [email protected], or
•  Print and mail (or drop off) to Fred's Energy, 328 Main Street, Derby, VT 05829
•  As another option, you could fax to 802-766-4901.
Please note: your name and contact information is only required if you would like to be entered into the drawing. Drawing to take place the last day of each month until the end of the year and winners will be notified. *Gift certificate is good for products or services from Fred's Energy – not redeemable for cash. Thank you for your participation!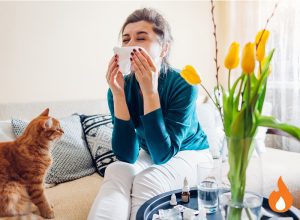 Trio Plus Air Purifier – f

or a healthier home!
Summer is wonderful, but it can also be challenging if you have allergies or asthma. Breathe easy, breathe deep, and breathe healthy with a Trio Plus air purifier and filtration system from Fred's Energy! This remarkable, state-of-the-art portable system removes indoor air pollutants such as smoke, dust, pollen, pet dander, and even toxic gases from household products and cleaners.

With true HEPA and carbon filtration, Pro Cell VOC reduction technology, and powerful UVC lamps, this exceptional air purifier also reduces mold, odors, and viruses with a 99.99% effective rate against coronavirus!
Call your local Fred's Energy office today to learn more.